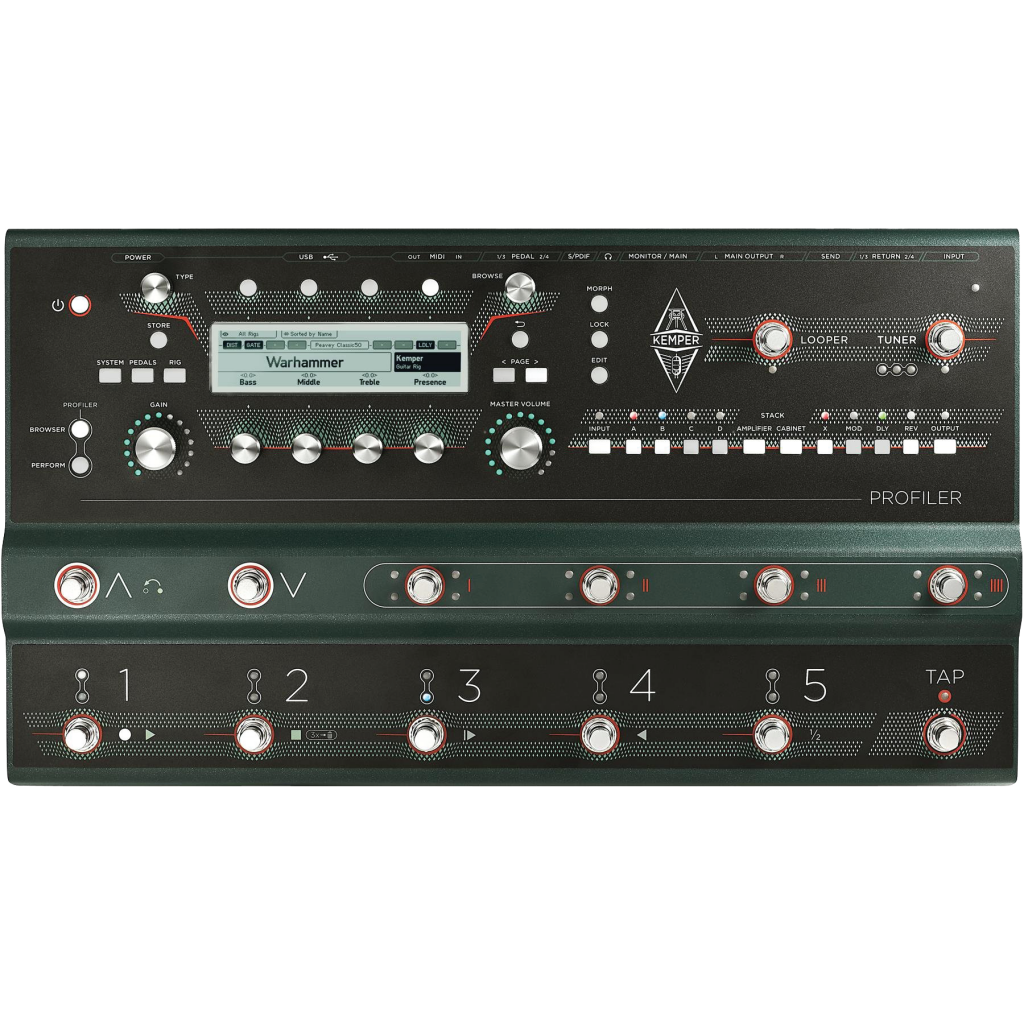 Guitar/Bass Amp Modeler with Integrated Remote
Players asked, and Kemper delivered — in a big way! The Kemper Profiler Stage gives you all the performance power of a full-size Kemper rack or toaster unit in a sleek and streamlined pedalboard format. Hundreds of the most carefully replicated amps, stomps, and studio effects await you in the Profiler Stage's stock library with thousands more available in the free Rig Exchange cloud. You can even profile your own amps and cabs for an all-access pass to your favorite tones of all time. The Profiler Stage's soft-touch switches make stepping through Performances (songs) and toggling virtual stomps simpler than ever. Around back, stereo effects loops, MIDI remote/expression pedal integration, and plenty of digital and analog I/O make the Profiler Stage one of the most powerful performance platforms to hit the market.
Contact us for more information about this amazing profiler!
PROFILER STAGE™ is an ultra compact, full featured Profiling Amplifier designed for gigging guitar and bass players. PROFILER STAGE™ brings all of the power and versatility of the Profiler and Remote in a compact, highly portable format for the musician on the go. The sturdy metal housing weights just 10 lbs (4.6 kg) and the super small footprint is only 50% larger than a Remote Foot Controller.
Made with international touring in mind, the built in power supply automatically adjust to all local power standards. Professional musicians will love unique features such as two effect loops and dedicated stereo monitor and balanced main outputs. On top, to boost your performance, up to four pedals can be connected.
 -Large, super bright display. Designed with sunshine in mind-
 -Backlit buttons and labels, made for dark stages-
 Connections : USB / SPDIF / Headphone / Main mix / Monitor Mix / FX Send / 4 x Pedal
 Dimensions : 47 cm (w) x 26 cm (d) x 8,5 cm (h) / 18.5″ (w) x 10.24″ (w) x 3.35″ (h)
 Weight :  4,6 kg / 10.14 lbs
KEMPER PROFILER™ Stage Package includes :
Kemper Profiler Stage
ICU Power Cable
Printed Manual