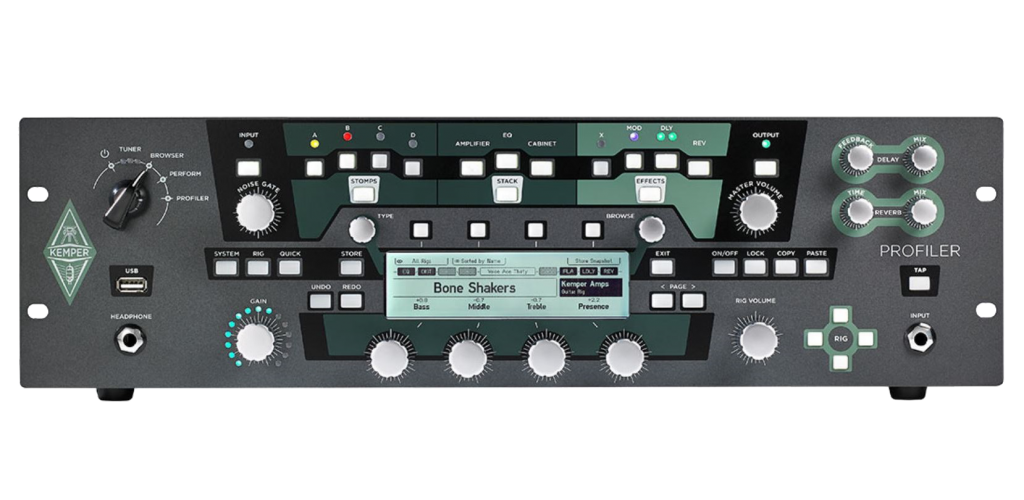 One year after the arrival of the KEMPER PROFILER concept to the market, it has found its place on all levels guitar players usually operate: at home, in the rehearsal room, the recording studio and on stage, even arenas. Featuring a user interface nearly identical to the lunchbox version, the KEMPER PROFILER Rack is just as easy to operate. The layout is highly intuitive and already familiar to users of more traditional amps. The most important parameters, such as gain, tonestack and volume, are directly accessible. There are even dedicated knobs to control the reverb and delay from the front panel.
Also available fully powered– The KEMPER PROFILER PowerRack™
The KEMPER PROFILER PowerRack™ adds a built in 600 Watt power amp to the KEMPER PROFILER concept and turns the former recording solution into the most versatile guitar amplification system ever. Utilizing the KEMPER CabDriver™ mode, guitarists now have the choice of playing through regular guitar cabinets or full range monitor systems. This extends the KEMPER PROFILER concept as the perfect solution for the rehearsal room and the stage.
Contact us for more information about this amazing profiler!
The amp comes fully equipped with hundreds of studio grade amp profiles suitable for both Live and Studio artists. Dozens of high end professional stomp box emulations and effects. Lifetime free feature updates including new effects, additional content and other enhancements. Complimentary access to Rig Exchange, a cloud based service with over 5000 additional amp profiles.
The Kemper PROFILER™ Rack Package includes :
Power Cable
User Manual
Dimensions: 3 HE (3 RU),  48.3 cm (19 inches) x 13.9 cm (5.47 inches) x 22 cm (8.66 inches)
Weight: 5.00 kg (11.02 pounds)
Line voltage: 100-240V AC