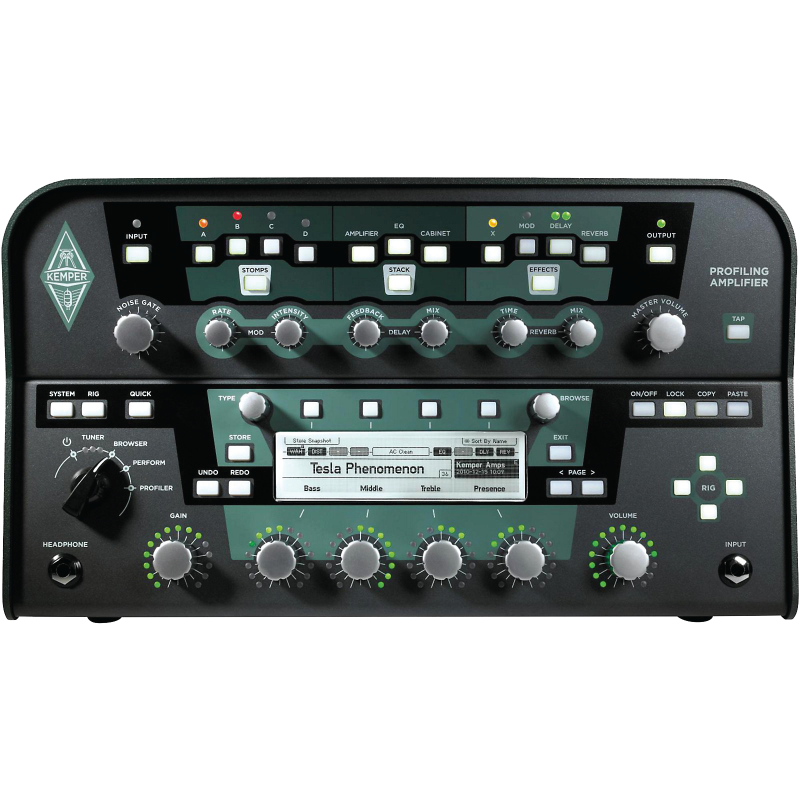 YOUR COMPLETE AMP COLLECTION
THE AWARD-WINNING, HIGHLY ACCLAIMED KEMPER PROFILER
It contains your entire amp collection: the amps you own, the best sounding amps from top guitarists the world over, and amps from studio-cats who live for that perfect recording room, ultimate mic position, and purest possible signal chain.
The Kemper Profiler can capture the sonic DNA of a guitar amp with the press of a single button. But, so you don't have to, the best amps in the world come pre-installed, ready to bring their legendary tone and feel to your fingertips. Ready to take you on a trip of tonal bliss from Alternative, thru Metal, to Country.
Contact us for more information about this amazing profiler!
The PROFILER™ Head guitar amp comes fully equipped with hundreds of studio grade amp profiles suitable for both Live and Studio artists. Dozens of high end professional stomp box emulations and effects. Lifetime free feature updates including new effects, additional content and other enhancements. Complimentary access to Rig Exchange, a cloud based service with over 5000 additional amp profiles.
The Kemper Profiler™ Head comes with Black or White face.
KEMPER PROFILER™ Head Package includes :
Power Cable
User Manual
Dimensions:
37.8 cm (14.88 inches) x 21.7 cm (8.54 inches) x 17.3 cm (6.81 inches)
Weight: 5.32 kg
Line voltage: 100-125 or 190-245V AC